Progress School of Motoring on road to have the best online presence in 2017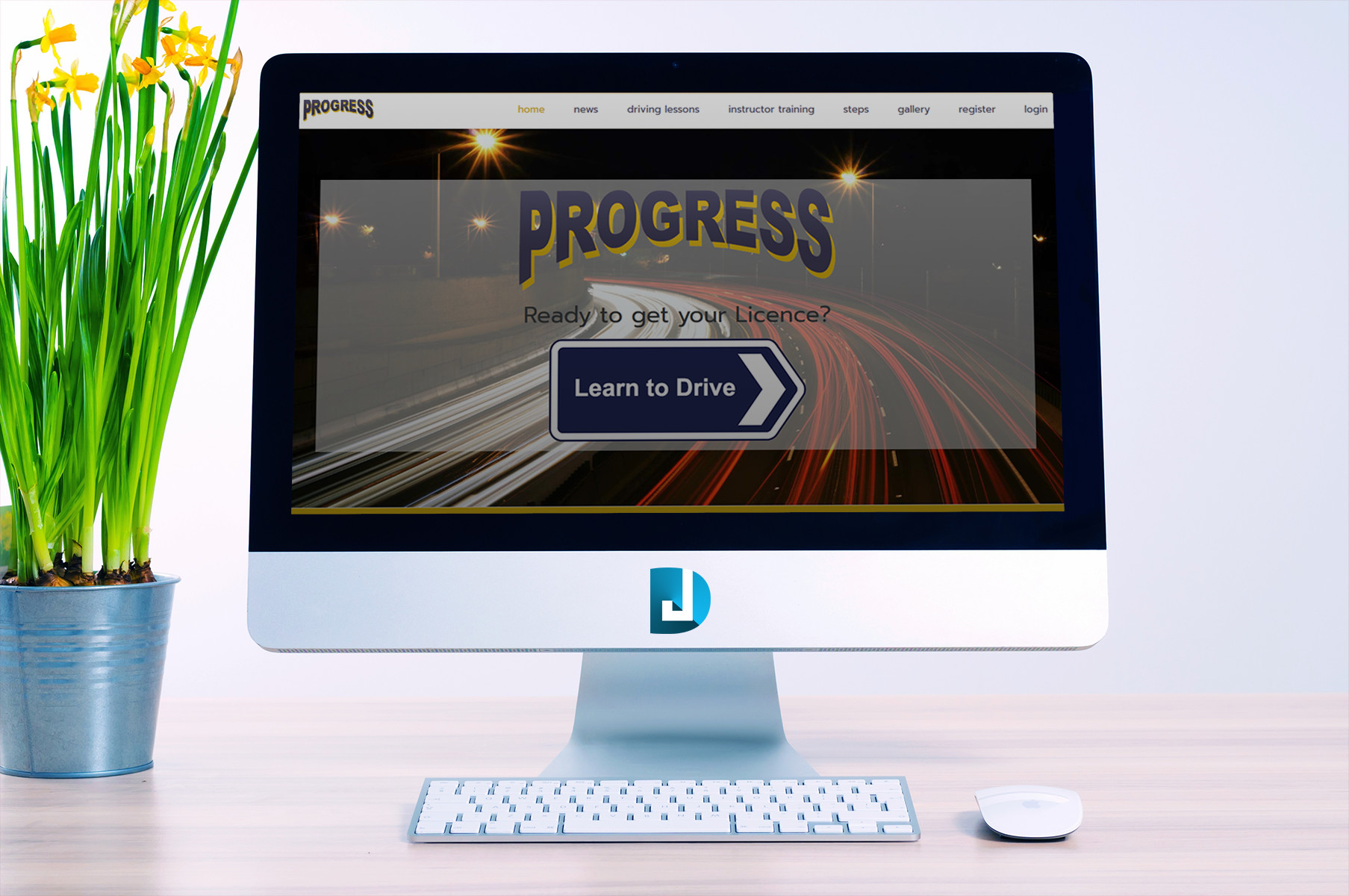 Progress School of Motoring is a franchise driving school covering the whole of North Wales. From Anglesey to Wrexham, Llandudno to Blaenau Ffestiniog.


Introduction
When I first met with business partners Mike and Dean in the summer of 2016, they explained their business model and how they span all counties across North Wales. Mike is not ashamed of admitting he's the least technical-minded person ever - and this is no exaggeration! His success is down to his excellent skills as a driving instructor, and business owner.
Dean on the other hand, had a great vision of how he not only wanted to bring Progress into modern times, but exceed expectation completely; and offer an online support system through their new website which would make Progress stand out as a leading driving instructor service covering North Wales.



Existing Website
Progress had a very outdated, static website with lots of plain text covering the few pages, with no dynamic content and heavily outdated images. There was little inspiration to start with, and the only instruction from Mike and Dean was to keep the classic 'yellow/blue colour scheme' of the company.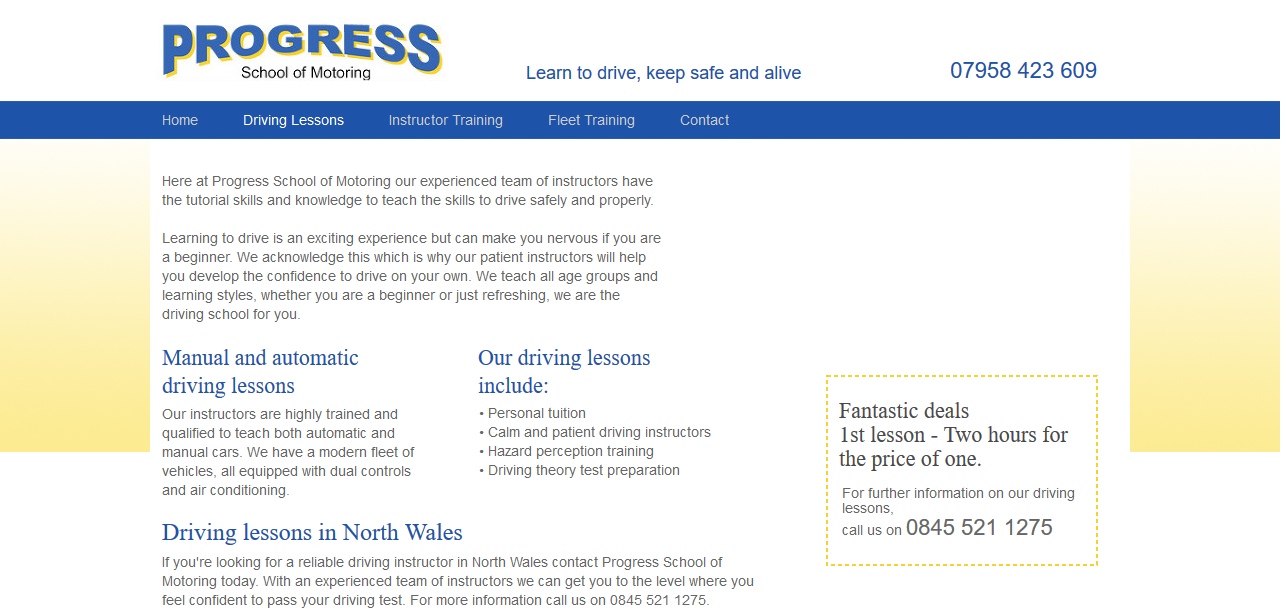 Previous Progress Website
Feature Requirements
While Mike has very little technical knowledge and experience, he does have a very open mind in regards to embracing new technology, to further make Progress School of Motoring the best driving school in North Wales. Dean does have a great vision of the features he'd like his website to have, but had no idea of the technical implications to put such a system in place; most importantly the work needed in order to keep the whole thing super-simple to use.



Custom User Profiles
This is a J-D Design popular feature. Progress can now offer student registration on their site, with custom user profile fields allowing them to capture company-specific custom data from their students securely. This allows for user reporting, and most importantly marketing opportunities for the future. From launch, Progress wished to ask users upon registration for their current driving instructor (if assigned one), and their date of birth.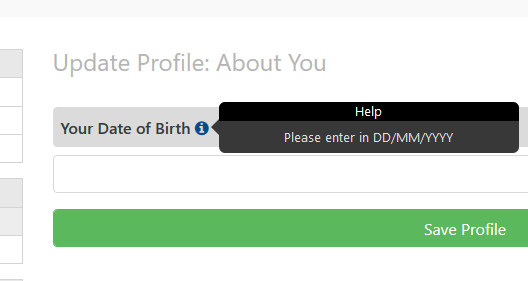 Custom User Profile Field


Asking for the date of birth allows Progress to target special promotions to potential students who have registered on the website around their 17th birthday, which gives them ultra-targeted marketing.



Dynamic Mock Theory Tests
One of the ideas Dean had was for a fully featured, Progress-branded Mock Theory Test system. A system where all instructors can login, and have permission to view their students existing mock test results, which questions they got right, and which ones were incorrect. This allows a whole new level of support between student and instructor, allowing the instructor to focus and identify specific areas requiring improvement - before the official test.






Theory Test Management


At any time, instructors can create new mock theory tests with new sets of questions, or alternatively (and exclusively), instructors can add to the 'Questions Bank' an unlimited amount of DVSA approved theory questions, while the system can dynamically and randomly select 50 questions from the question bank, therefore giving the true theory test experience.



Tailored Lesson Plans
Another imposing feature of the new website and system for Progress includes tailored lesson plans. A pre-documented set of lesson plans for students, set out into categories to support their learning. Each individual Progress driving instructor can then login to the website management system, and as each student progresses through a driving course, new categories of supportive documentation are unlocked for that student to aid them in giving them the best possible chance of passing first time. After all, first-time passes are what have built Progress' reputation to that what it is today.






Lesson Plan Management


Additional benefits of having these tailored lesson plans per student is the inevitable word of mouth



Target Audience
Progress provide driving lessons to students aged from 16+ to any age. Therefore, their new website needed to have the technical features to attract the popular 17-25 age group, but not too complicated it wouldn't be able to support 45-65's for example.
Because Progress offer both driving lessons and instructor training/tuition, the website and management system needed to offer features which would not just make students want to join Progress, but also attract a great driving school franchise for any independent driving instructors wanting to increase their business and expand on their own success. That's the important thing Progress wants to get out of their ever-growing business model.



Screenshots
Launch Night
In early December 2016, we had an official internal launch night which tied in with the Progress annual Christmas party. Mike and Dean asked if I'd host the launch of their new website announcement and initial system walkthrough with all instructors present. We gathered at the Faenol Fawr Hotel in Bodelwyddan, where a conference suite was reserved and a projector and large display screen ready for the event.
The instructors arrived for the presentation, and everyone received the new system incredibly positively.
Afterwards, my partner and I were invited to the Progress Christmas party, where we were greeted by all instructors, and were able to eat, drink and get to know them all. A very warm, welcoming group of people with a great attitude towards business, and supporting their pupils; and an overall successful evening.



The Future
Because of how dynamic a J-D Design website can be, Progress has a wealth of support from me coming their way throughout 2017 and beyond. We'll ensure their online presence continues to remain relevant, while being ahead of the game with implementing the latest web technology and new features to their website as time moves on. As with every J-D Design website, it'll be the last website Progress will ever need. It will continue to change, develop and grow according to the needs of the business. Never again will Progress feel stranded with old content, a dated design, and no on-demand support from their web developer.



North Wales & Cheshire Web Design
Are you (or someone you know) interested in launching a high quality website in 2017? If so, contact me today, where we can have a no-obligation chat on making a success of your online presence.
Tags: